Tiled Roof Repairs, Tiled Roof Installations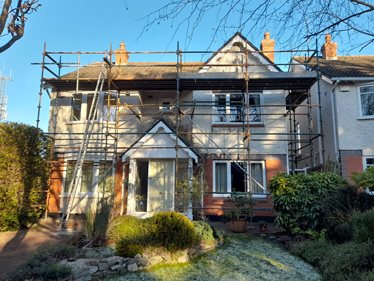 Whether you're looking to replace existing tiles or install a brand new tiled roof, Roof Solutions have you covered
The great Irish weather alongside time itself can cause a tiled roof a number of problematic issues. If a tile or slate on your roof becomes broken or in some form damaged, it is best to get it fixed as quickly and efficiently as possible from a reputable professional. Tiled roofing is a very popular option for many as it has numerous advantages including; longevity, combating extreme weather conditions, providing customers with an array of styles, being energy efficient, and also being generally considered as low maintenance.

With our vast knowledge and experience in repairing existing tiled roofs through to brand new installations, we can work to suit your needs to ensure your home or commercial property has a quality roof that will last and ultimately protect you.

When does my roof need repairing or replacing?
A tiled roof's longevity means it shouldn't have to be repaired or replaced often at all, however, it is important to check your roof to ensure you do not encounter any potential dangers. If you are able to spot any damages early the chances of problems, large expenditures, and hazards is greatly reduced. There are a number of signs to look out for, which firstly start with noticing damp areas and any possible leaks through the ceiling. Taking note of the appearance of the tiles is also important. If they are looking worn out or possibly missing altogether, then it's vital to start proceedings to repair or replace.

We work in the highest quality and all of our new roofs come with 10 year INSURED guarantee, which means you are covered even if we cease trading. Whether you're looking for a flat roof repair or a new installation, we offer a free roof replacement quotation, just enter your details in our 'contact us' page and we can arrange for one of our roofing technicians to visit and assess your roofing needs.

At Roof Solutions, our customers are extremely important to us.
 
We also offer the following services
Emergency Roof Repair
Attic Insulation
Guttering and Downpipes
Soffits and Fascias
Chimney and Valley Repairs
Commercial Roofing