Commercial Roofing, Single Ply Roofing, Metal Sheeted Roofing, Profiled Metal Roofing, Cement Roofing, Liquid Applied Roofing Systems, Hi Performing Felt Roofing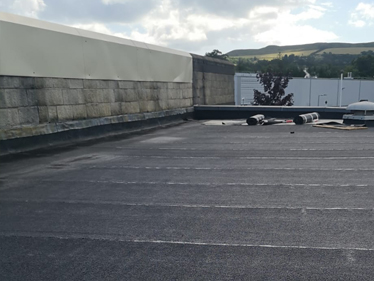 Commercial roofing services for all requirements
We carry out a wide range of commercial roofing services for businesses across Dublin. This includes repair, replacement, and maintenance to extend the longevity of your commercial roof. Depending on the construction and materials used, commercial roofs sometimes require attention or even replacement in as little as 15-20 years. We can assess the best method of action for your roof, whether or not that is repair or replacement.

Does your roof need attention?
While leaks are commonly the reason to requiring a roofing service, there are also other indicators that your commercial roof is no longer fulfilling its purpose. A soar in energy bills in these times may indicate that your roof is no longer retaining heat in colder weather spells. There may also be visual cues, cracks, blistered flat roof membranes, or drainage issues. Repair is a good option for minor issues and for helping to extend the life of your property's roof. However, if your building's roof has suffered significant damage from storms or other means, or is approaching the natural end of it's useful life, then we can also carry out a full roof replacement for your commercial property.

Minimising the impact on your business
We completely understand that a roof requiring repair can cause considerable disruption to your business. When carrying out any commercial roofing service we will take into consideration your timelines for completion and will work to minimise the impact that carrying out the work involved has to your business.
If you've had enough of repairs, call or email us today for a free roof replacement quote.

At Roof Solutions, our customers are extremely important to us.
We also offer the following services
Emergency Roof Repair
Attic Insulation
Guttering and Downpipes
Soffits and Fascias
Chimney and Valley Repairs