Asphalt Roof Repairs, Asphalt Roof Installations, Torch-on Felt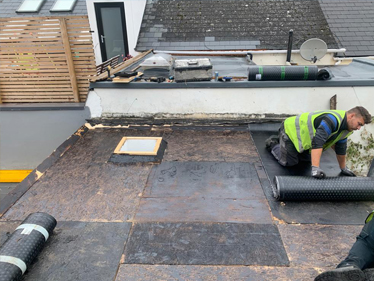 We carry out asphalt roof repairs and installations that are durable and weatherproof, providing you with ultimate protection.
Asphalt roofing is a durable and waterproof material with an impressive life expectancy. It is typically favoured among high-end properties due to its rich and clean appearance. Its versatility means that it can be applied to many different surfaces, thus addressing the many different issues a roof or surface may face. Additionally, asphalt is generally regarded as a more environmentally-friendly option, as the materials used to make asphalt naturally occur in the environment and it can be fully recycled once disregarded.

Furthermore, asphalt roofing is advantageous due to the cost-effectiveness of the material whilst still maintaining a high quality, leaving customers with a complete sense of value for money. This integrated with its easy installation, maintenance, and repair makes it clear to see why individuals opt for this style of roofing.

What can you expect from our asphalt roofing repairs and installations?
To ensure your asphalt roofing provides great performance and lasts as long as it should, it should firstly be installed through a certified professional. Roof Solutions possess the right credentials and over thirty years experience to ensure new installation and repairs are carried out to a premier standard. All new roofs come with 10 year INSURED guarantee, which means you are covered even if we cease trading. Whether you're looking for a flat roof repair or a new installation, we offer a free roof replacement quotation, just enter your details in our 'contact us' page and we can arrange for one of our roofing technicians to visit and assess your roofing needs.

At Roof Solutions, our customers are extremely important to us.
 
We also offer the following services
Emergency Roof Repair
Attic Insulation
Guttering and Downpipes
Soffits and Fascias
Chimney and Valley Repairs
Commercial Roofing