Lead Roof Repairs, Lead Roof Installations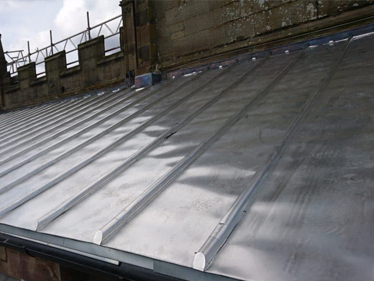 Cost-effective quality lead roof repairs and installation to fortify your roof and save you money in the long term
Thanks to its incredible durability and resilience, lead is one of the oldest yet most widely used roofing materials today. A incredible advantage of this material is its incredible flexibility. Everyone can appreciate the fluctuation of the Irish weather, so by having a lead roof, where the material can expand and contract in accordance with the weather is a major sway when making a roofing decision. Lead is an ideal roofing option for unusually shaped buildings as its very malleable.

Nowadays, lead roofing is predominantly used for smaller components such as roof flashings, or to protect more vulnerable parts of the roof. It is an attractive offer to many as lead roofing is renowned for its longevity as well as being a more affordable option than other types of roofing materials, thus making it a cheaper long-term option. Furthermore, lead is one of the most recycled metals in the world making it a sustainable and environmentally friendly resource.

What if I need to repair or install a lead roof?
As aforementioned, lead roofing can last for a very long time, meaning that a lot of upkeep shouldn't be required. However, if you require maintenance or wish to install a completely new lead roof, Roof Solutions have the expertise to carry out a professional job, ensuring quality is always maintained.  

We work in the highest standards and all new roofs come with 10 year INSURED guarantee, which means you are covered even if we cease trading. Whether you're looking for a flat roof repair or a new installation, we offer a free roof replacement quotation, just enter your details in our 'contact us' page and we will arrange for one of our roofing technicians to visit and assess your roofing needs.


At Roof Solutions, our customers are extremely important to us.
We also offer the following services
Emergency Roof Repair
Attic Insulation
Guttering and Downpipes
Soffits and Fascias
Chimney and Valley Repairs
Commercial Roofing