Chimney and Valley Repairs, Chimney Repairs, Valley Repair, Chimney Installation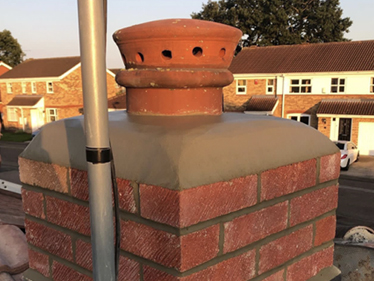 Chimney and Valley Repairs and Maintenance

Our Chimney Repair and Maintenance specialists have over 30 years of experience repairing and working with brick, stone and stucco chimneys for our customers. We can do whatever you need, from simple repair and maintenance to a chimney to the most complex jobs and work that other companies are unable to complete. A majority of chimney repairs can be completed within one day, however, depending on the difficulty of the task, some projects may take a bit longer. We will always let you know a time scale that is accurate to your project. Our professional team of chimney repair and maintenance tradesmen will respect your property and keep all disruption to a minimal.

Our Chimney Repair Services include:

Crown Repair
There are 2 ways to repair a chimney crown. If suitable to the project we can add a resurfacing material and then re-coat the cemented area. The other option is to replace the crown completely. From an on-site visit we will be able to determine how to advise you on the best way to proceed.

Chimney Rebuilding
It may sound very expensive but rebuilding your chimney from scratch is sometimes the most affordable option, rather than completing a repair. This is generally true when a chimney requires a number of repairs at the same time. We only advise you the most economical option.

Waterproofing Your Chimney
Most damage to a chimney is actually caused from inadequate waterproofing. This is often due to cheap sealants and materials being used, as the sealant degrades it allows water and moisture to get in and spread. The obvious signs of water ingress is normally visible as white staining or dis-coloured masonry. The best time to deal with this is before the problem occurs, so if you are in any doubt about the water proof nature of your chimney, you can always ask one of our chimney specialists to pay you a visit and check. Even if your chimney is showing signs of water damage, our knowledgeable chimney specialists will be able to repair the damage and make sure that it never happens again. The water repellent's and sealants we use have a 10 year warranty, giving our customers complete peace of mind.

Chimney Flashing
If you are suffering from leaks, stains on your walls and ceiling, or a tar like substance where your chimney and roof meet, we suggest you get in touch with us soon. We will check your chimney flashing to check if it is doing exactly as it should be. Dangerous work materials like, aluminium, lead and copper are often used by masons, sometimes these materials can react badly and release toxins.  If you have even the tiniest suspicion that this may be the case why not get in touch with our chimney specialists soon so they can inspect and advise you accordingly.

Chimney Re-pointing
Re-pointing allows you to repair your chimney to its original structural integrity by removing and replacing damaged or missing sections of your chimney. Even the use of cheap mortar can cause you problems after a few years. Our skilled chimney workers will be able to re-point your chimney to make sure that it always looks perfect.

Highly Skilled Tradesmen
All of our chimney workers are skilled and have years of experience, whether it is conducting a repair to your chimney or replacing it with a brand new one. Just contact us and a member of the team can visit you and give you sound advice and help on the best way to proceed with your chimney repair.



Installations and repairs
Emergency services
30 plus years experience
Friendly and reliable staff
Guarantee on all our work

At Roof Solutions, our customers are extremely important to us.
We also offer the following services
Emergency Roof Repair
Attic Insulation
Guttering and Downpipes
Soffits and Fascias
Commercial Roofing