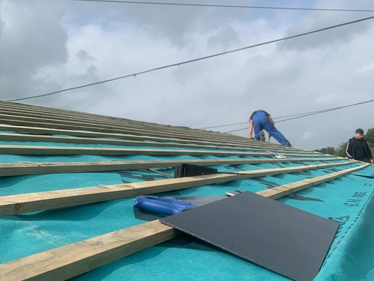 Have you been putting off getting your roof repaired?
Have you not replaced your roof since moving into your home or business?
Are you worried the next storm will cause water to stream into your home?
Are you looking for a trusted roofer to get the job done?

Roof Solutions are roofing specialists based in Dublin. We are a family-run business with over 30 years' experience. And we deliver top quality roof replacement and roof repair services for our customers. When the work on your roof is complete, you will get a 10 year insurance-backed guarantee meaning that even if we go out of business, you will be covered for 10 years.
Why can I trust you?
Quality roofing is what we do, both for domestic and commercial clients all around Dublin. We pride ourselves on a high standard of work and will be honest with you throughout the process. We believe in doing the job properly the first time. This will save you time and money, and leave you with the best roof to suit your needs. You can rest assured that we comply fully with industry and safety standards. We are fully accredited.
What will I have when you are finished?
When we are finished replacing your roof, you'll have a new high-quality, well-built roof with a 10 year insurance-backed guarantee. You'll also have peace of mind, knowing you have a top-quality weatherproof roof over your heads.
Roof Solutions comes highly recommended by past customers, who include universities, churches, insurance companies, and the average person up the street. We also have experience replacing or repairing roofs for local councils, listed buildings, colleges and warehouses.
Call today for a free roof replacement quote on 087 4310104
Flat Roof
Felt Roof
Tiled Roof
Asphalt Roof
Pitched Roof
Lead Roof
Slate Roof

We also offer the following services
Emergency Roof Repair
Attic Insulation
Guttering and Downpipes
Soffits and Fascias
Chimney and Valley Repairs
Commercial Roofing