Roof Repair, Roof Replacement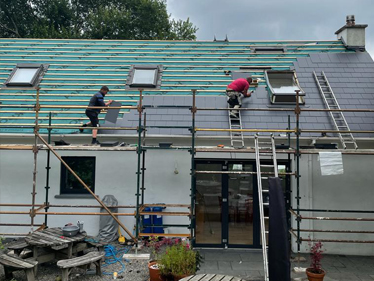 Domestic Roofing

Is it time to consider a new roof?
Are you sick and tired of costly repairs to your roof? Have you had more than one leak in your roof? Maybe you've had water enter your roof in various locations? If you answered yes, then you should probably consider a new roof. Constant repairs can be costly and in some cases only mask the problem for a short while. Whilst some roofs can last a lifetime, many roofing materials typically fall into disrepair after 20-25 years and may require replacement.
Domestic Roof Replacement
With a full new Roof from Roof Solutions, we take care of everything from supplying all the materials to organising the scaffolding and skips, meaning the whole job from start to finish is hassle free and we guarantee your satisfaction.
We have been replacing domestic roofs across Dublin for over 30 years, and have a long track record of happy customers. With roof replacement often being a new challenge for many of our customers it's important that you choose a trusted and well recommended roofing company.
If you've had enough of repairs, call or e-mail today for a free no obligation quote.
Not sure whether you need a roof replacement or repairs?
Knowing whether to repair or completely replace a deteriorating roof can often be a confusing decision. Whilst repair can often be the right course of action, in some cases it is only prolonging the inevitable and may lead to further damage and bigger long term costs. It's important to make the right decision and we would always recommend seeking advice from a professional roofing company if you are unsure. If you are not sure whether you need to replace or repair we will be happy to assess your situation and advise on the most appropriate course of action to make your home roof or commercial property roof safe and secure.
Installations and repairs
Emergency services
30 plus years experience
Friendly and reliable staff
Guarantee on all our work

At Roof Solutions, our customers are extremely important to us.
We also offer the following services
Emergency Roof Repair
Attic Insulation
Guttering and Downpipes
Chimney and Valley Repairs
Commercial Roofing