Pitched Roof Repairs, Pitched Roof Installations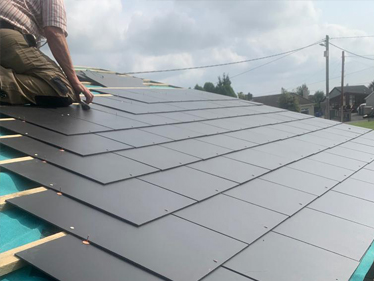 Traditional pitched roofing repairs and installation, providing you with style and weather resistance to battle all the elements
Typically chosen for residential properties, pitched roofing is a common option for many homeowners whereby bad weather conditions are often a top feature of the weather forecast. When it comes to heavy rainfall, pitched roofs are incredibly reliable in terms of drainage, ensuring you won't be left with large pools of water. With that being said, being so weather resistant means that pitched roofs are also incredibly durable, thus providing a long-term money saving option. Pitched roof appearance boasts a traditional feel in combination with a consistent eye-appealing design. Pitched roofing can also help in terms of energy persevering, as it provides greater thermal insulation due to its compactness. A further advantage is that this kind of roofing allows for additionally storage below them, meaning you can maximise the space in your home.
Caring for your pitched roof
Frequent checks and maintenance will benefit a pitched roof, but its longevity means that you won't have to worry about repairs as often as you would with other forms of roofing. Pitched roofing may be more expensive than other forms of roofing, however, there is less of a risk of future repairs and maintenance so it has the potential to save you money in the long-term.
We work in the highest quality and all of our new roofs come with 10 year INSURED guarantee, which means you are covered even if we cease trading. Whether you're looking for a pitched roof repair or a new installation, we offer a free roof replacement quotation, just enter your details in our 'contact us' page and we will arrange for one of our roofing technicians to visit and assess your roofing needs.
At Roof Solutions, our customers are extremely important to us.
We also offer the following services
Emergency Roof Repair
Attic Insulation
Guttering and Downpipes
Soffits and Fascias
Chimney and Valley Repairs
Commercial Roofing