Slate Roof Repairs, Slate Roof Installations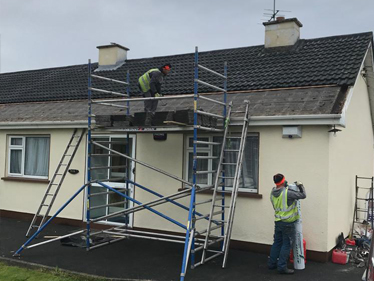 Beautifully designed slate roof repairs and installations, capable of vast versatility and durability
Known for its attractive design, slate roofing is both distinctive and comes in many colour varieties, making it a popular type of roofing material. Slate is a material that is robust and built to last, capable of combating all weather conditions. It is worth to note, that slate roofing is also one of the most fire resistant materials available, which provides additional safety for your home and your own peace of mind.

If you wish to minimise the running costs of your home then slate roofing is a great option for you. Slate roofs provide extensive insulation, keeping buildings warmer in the winter and cooler in the summer, therefore, saving you money on your energy bills. Slate roof tiles are also environmentally friendly.

How can I best maintain my slate roof?
In terms of maintenance, slate roof requires very little maintenance. However, to ensure the safety of your roof we would recommend you get in touch with a professional roofer, such as Roof Solutions, to inspect it every year or two. If any problems with your slate roof do arise, such as broken or damaged tiles, these can be easily repaired or replaced with very little hassle.

We work in the highest standards and all new roofs come with 10 year INSURED guarantee, which means you are covered even if we cease trading. Whether you're looking for a flat roof repair or a new installation, we offer a free roof replacement quotation, just enter your details in our 'contact us' page and we will arrange for one of our roofing technicians to visit and assess your roofing needs.


At Roof Solutions, our customers are extremely important to us.
We also offer the following services
Emergency Roof Repair
Attic Insulation
Guttering and Downpipes
Soffits and Fascias
Chimney and Valley Repairs
Commercial Roofing